So it begins….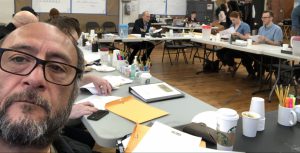 Getting to sleep last night involved a hefty dose of melatonin, mindful breathing, a very relaxed Savasana, sound cancelling headphones, the RainRain IOS app, and counting sheep. It was worth it though, as I felt rested and refreshed when my alarm went off. I eased out of bed, broke fast on boiled eggs and greek yoghurt, dressed, packed my lunch and when I was ready I was an hour ahead of schedule.
The Citibike ride to the rehearsal hall was pretty smooth. 9th avenue traffic was heavy but the bike lane was open. I was a good citizen and obeyed traffic rules throughout the trip. Cycling on New York City streets is exciting and convenient and quite invigorating. It's faster than walking and a lot more fun than the subway, and you still get the benefits of all the sights, sounds and smells that being on the street affords. But you still have to keep your wits about you. Disaster can come from any direction.
I arrived at the rehearsal hall and boarded a rickety elevator that has been used by Dancers and other Broadway nomads for decades. I stepped off the elevator entered the rehearsal hall and basked in the smiles and embraces of my colleagues. Company Manager, the amazing Liza Witmer, hugged me hard and welcomed me back to the Public Theatre. More hugs, smiles and words of welcome came from Production Stage Manager James Latus, his lieutenant Rachel Zucker, Director, Playwright and Tony Winner Ruben Santiago Hudson and fellow actors Peter Jay Fernandez, Thomas Schall, and the amazing Corey Stoll.
Liza took me aside and told me that she had been catching up on old episodes of Beverly Hills 90210, and literally screamed when she saw me on her TV screen. "I could not believe I was seeing the '90's Miguel." We could not stop giggling about my role. I guested on that show for a few of episodes playing a bad guy who was really a good guy in disguise and who intimidated the heck out of Dylan, played by Luke Perry.
It was like coming home. After plenty of laughter, hugging and chatting we did our day one paperwork, received presentations from the production team, set designer (the amazing Rachel Hauck), costume design team, dramaturg and Public Theatre leadership. After that Ruben stood up and let us know that this telling of the Othello story will focus on Love. This is going to be a great show.
We took a short break, and then did our first read through. The cut of this play is lean and forward leaning. It's a nimble and streamlined cut that does not stint a bit on story. It reminds me of what Franco Zeffirelli said about opera, "…it is like a river, always moving forward."
After the reading there was more chat and I had my first bona fide senior moment. I was talking with Ruben and James Latus, reminiscing about prior adventures. Then I turned to James and proudly pointed out to him that, "I was Ruben's understudy when he did Henry VIII in the park back in the day". James smiled and replied, "I know Miguel, I was production stage manager on that show. We all laughed and Ruben patted me on the shoulder and said, "No worries, we're all having senior moments these days".
Well this senior felt like a young, fresh player today as we began this adventure. More to come.