Mind Your Own Part
"Mind your own part!" was something we heard over and over again as young actors at the National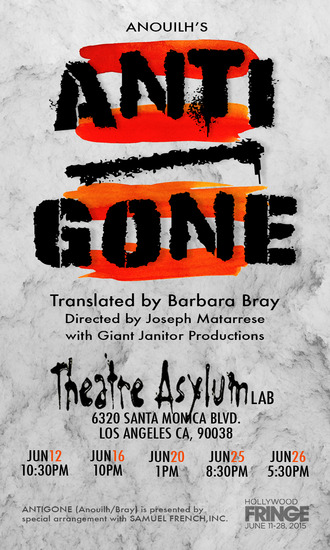 Shakespeare Conservatory, in NYC. Our master teacher was a big believer in the actor as a self sufficient artist operating in a collaborative medium. We were taught to create our character, decide our motivations and execute our part of the story from a purely subjective stance. This philosophy created actors who were equipped to rehearse and perform through all manner of adversity, changes of plan, changes of cast, venue, script, artistic direction, budget, costume and on and on and on. In other words. The training I received in 1982 prepared me beautifully for LA Theatre in 2015.
During a recent lunch with Bari Hochwald, artistic director of The Global Theatre Project, I went on a riff about how I would like to direct a show without directing it. I would like to cast the show, send out the scripts and advise the actors to show up at the venue for opening night with their lines down pat and ready to work. It would be the full on, actor's nightmare. I may yet get to do that, but for now, I'll have to be satisfied with the the head spinning and heart pounding guerilla theatre badassery that we are practicing as we prepare to rock the LA Theatre scene. The Antigone cast will rock the Hollywood Fringe Fest as of collective of individual, disruptive, insurgent and fearless talents. When we all come together in the days before opening, we will all know the mission and how to complete it.
The cast of Antigone is made up of talented, committed and deeply engaged artists who are carving out as much time as they can for this timeless, challenging and captivating project. When we can't all rehearse together we are, for freakin sure, going to be working on our stuff at home, in the car, during lunch hour and when we would rather be sleeping. To work on a Fringe Fest play in LA, you have got to bring your "A" game and a set of cojones like brass doorknobs. You must shout a resounding 'YES" to whatever challenges are presented you and swing for the fences at every curve thrown. My blood is rushing as I write this because I know that audiences will be short of breath and long on excitement as we attack the Theatre Asylum Lab stage with Antigone during the Hollywood Fringe Festival.