For the last 6 rehearsals the Troilus and Cressida company has been focused on table work and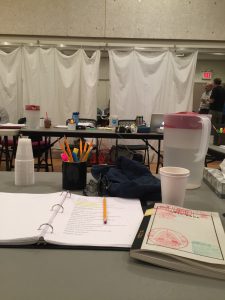 physical conditioning. This period has been a dream come true for a long time journeyman like myself who, even now, has aspirations of becoming a true theatre artist.
Every day has been a full day of script reading, discussion, clarification, consultation with our voice coach, Shakespeare scholar, director and each other, and just plain getting to know the story inside and out. What we are discovering about Troilus and Cressida today is going to have a profound effect on how we tell the story to our audience next month.  Table work is foundational if one is serious about Theatre.
In my limited experience of LA Theatre, table work was limited to a group read thru of the script and some light discussion. This effort usually consumed half a day.  DIscussions about scenes, the arc of the play, it's characters, it's actions would come up during staging rehearsals and usually involved the director and the actors who were on call for that moment. Granted I have never worked at ACT, whose Artistic Director Carey Perloff, is a big believer in table work. I know this from working with her at the Classic Stage Company, in New York City.
The typical Los Angeles theatre does not have the luxury of long rehearsal periods and on call scholars and dramaturgical experts and yet many excellent productions come out of the LA Theatre. For me though, it took coming back to the New York theatre to renew my appreciation for a more intellectual approach with lots of table work. Good theatre happens in both cities. I guess I get more personal and  artistic enjoyment out of the east coast approach and sensibility.
On top of all this goodly table work. Our company is gathering 3 mornings a week for physical conditioning. We do an hour of group calisthenics and strength exercise that leaves us all sweaty and breathless… and energized. The need for this physical work comes from the way we are staging Troilus, very physical, very action oriented. Also, to work in the park you have to be inshape, it gets hot and sweaty and you can get sapped of all your strength in no time flat.
This is an amazing and rejuvenating experience. I feel like I never left while at the same time feeling like it's my first time. Ha! I'm a born again theatre virgin.