Another Turn on the Delacorte Stage
1:30 AM. I'm a couple of hours away from heading to the airport, and catching a New York bound flight. As usual I can't sleep before a travel day so I'm writing. The New York Shakespeare Festival asked me to join the cast of their production of Othello this summer. I'm psyched, jazzed, thrilled. Someone told me a long time ago that "you only get so many opening nights". A bittersweet truth, and fewer still are opening nights on a major stage in New York City. I'm grateful for the opportunity. I'm happy to be working in New York. I'm surprised that I'm already a little homesick for LA. Did I just write that? Yes….yes I did.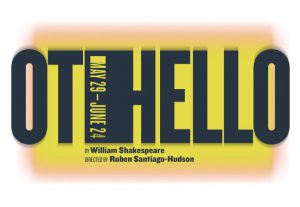 As an actor who trained and turned pro in NY I've felt obliged to consider my time in LA to be a "temporary stint out of town". Well I've been "out of town" since the last decade of the last century and now my brief stints are "in town". The great radio star Fred Allen once said that "…the minute you leave New York, you're outta town". In a way it's still true, but so much less so than in my youth when New York was just beginning to come back from a terrible descent into insolvency, crime and decay. Things were happening, a renaissance was  gearing up.
The profession of acting was being taught by the students of great teachers like Lee Strasberg and Stella Adler, who were both still teaching as well. The generation of actors who came up during those years in NY were smart and talented and maybe just a tad idealistic. We wanted to be artists, to do Theatre, to play Shakespeare. And if you wanted to do the Bard you wanted to work for Joseph Papp, the impresario who founded the New York Shakespeare Festival.
Joe Papp was a star maker, a heart breaker, a big, brawling force of nature packed into 5 foot something frame. He used to call me "Mickey". I always called him "Mr. Papp".  He's gone now, he's waaaayyyy outta town. What he left behind is a legacy of excellence, beauty, vision and sheer talent summed up in two institutions, the New York Shakespeare Festival, and The Public Theatre. Oscar Eustis is the man in charge now and he is doing an amazing job. His production of Julius Caesar last summer was a sensation.
This year I'm honored to play Brabantio in Othello, under the direction of the great Ruben Santiago Hudson. I'll be there, in the rehearsal hall on Monday morning, script in hand, mind engaged, listening intently and absolutely 100 percent IN town.