In a couple of days I board a flight for NY and will land in the past and the future at once. There are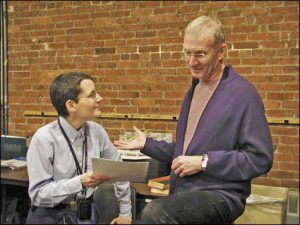 so many old friends and colleagues in New York whom I will see and spend time with and party with and watch working and who will watch my work. Of all of them though the one I am most anxious to see again after so many years is the great stage manager Buzz Cohen.
To me, and to many, many, many Theatre professionals around the country Buzz Cohen is the standard for measuring the quality of a stage manager. She is small of stature, always smiling, always positive and always, gently and unequivocally, in charge. Buzz runs a safe, classy show. She understands all aspects of theatre life and has a way of making each and every person in the company feel safe and cared for. How does she do that? She does it by really, truly caring about the show and everyone in it.
I've had the sincere pleasure of working Buzz on Broadway and downtown at the Public Theatre and ever since meeting her and working with her I have been a fan. Wherever I am, when the words "stage manager" are spoken within earshot, I think of Buzz.
Back in 1995 I was working a big show with Buzz. During that time I received word that my father had terminal cancer. I was devastated but circumstances were such that, at my father's insistence, I stay with the show and visit him after we had opened. From that point forward I was on the payphone near the stage door nightly, talking with my Dad. Afterwards I was in my dressing room, regaining my composure. And every now and then, just at the right moment, Buzz would appear and offer a kind word, or a listening ear, or just a pat on the shoulder and a smile. It helped.  I've never forgotten her simple and human kindness. And I am so looking forward to hearing her voice on the intercom calling half-hour to the company.
"Half hour, half hour, it is half hour ladies and gentlemen for the New York Shakespeare Festival Production of Troilus and Cressida. Once again it is half hour, half hour!"